View Profile - Jennifer B (jennifer)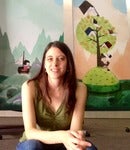 Jennifer B
Junior Keeper


Send Message
Username:
jennifer
Last Online:
Aug 18, 2015 2:46:42 GMT 9
Shoutbox
What's on your mind right now? Just type and hit "Enter" to share it here!
Adam Beck
:
Mayken, I love that little anecdote! Wonderful in all ways!

And Wojtek, I'm happy to hear your good news! Your bilingual dream is gradually coming true, isn't it?

May 10, 2017 5:54:00 GMT 9