View Profile - Jennifer B (jennifer)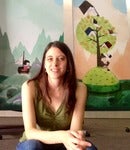 Jennifer B
Junior Keeper


Send Message
Username:
jennifer
Last Online:
Aug 18, 2015 2:46:42 GMT 9
Shoutbox
What's on your mind right now? Just type and hit "Enter" to share it here!
Mayken
:
6yo came home from school with her ml report card, and it's full of A's! Proud Mommy (that's me) went and bought her some books as a reward.

Apr 1, 2017 5:04:04 GMT 9