View Profile - Jennifer B (jennifer)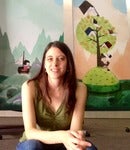 Jennifer B
Junior Keeper


Send Message
Username:
jennifer
Last Online:
Aug 18, 2015 2:46:42 GMT 9
Shoutbox
What's on your mind right now? Just type and hit "Enter" to share it here!
Mayken
:
Time to update my profile: my little girl is 7 today. She got a stack of ml books and was totally thrilled.
Jun 30, 2017 4:59:27 GMT 9