View Profile - Joanna (joboom)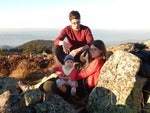 Joanna
Senior Keeper



Send Message
Username:
joboom
Last Online:
Nov 25, 2017 6:14:43 GMT 9
This member is not following any other members.
There is no activity to display.
Shoutbox
What's on your mind right now? Just type and hit "Enter" to share it here!
Mayken
:
Follow-up on my daughter's visit at my old ml school: the headmistress suggested a penpal set-up between the class there and my daughter's class here. Let's see what my daughter's regular ml teacher says. I think that'd be cool. (The kids are in 2nd grade.
Oct 28, 2017 6:09:00 GMT 9

*